October 10, 2019
A Complete Guide to Smoothie Bowls + Recipe | Plant Based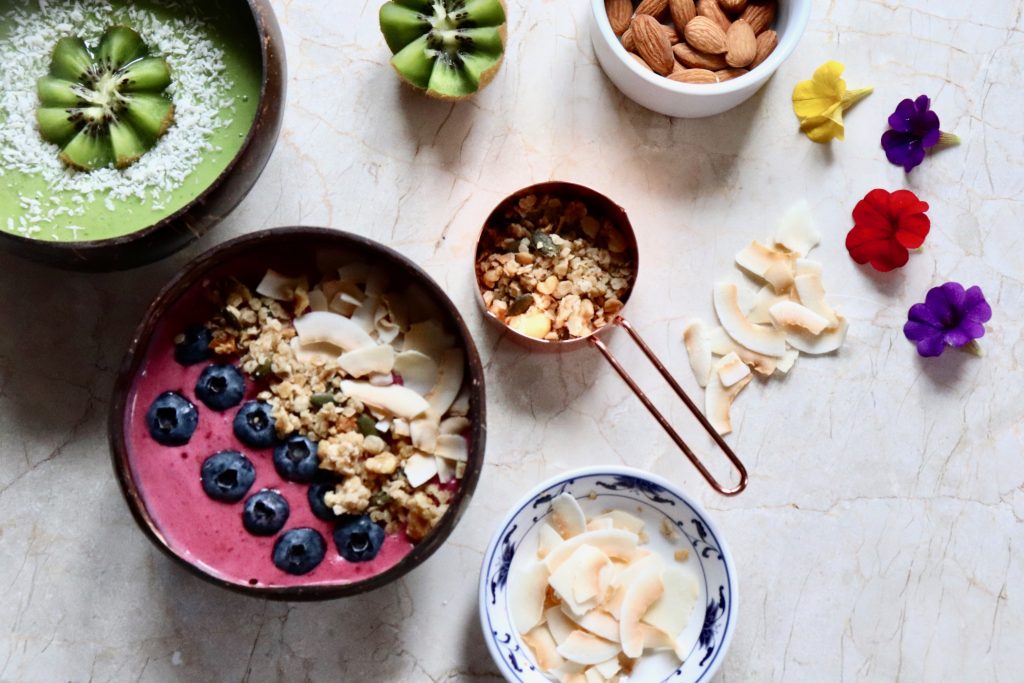 When I first discovered smoothie bowls, I made one nearly every day for breakfast or brunch.
Fast forward 5 years and they are something that still make a regular appearance at breakfast time. Although, I'm pretty obsessed with overnight oats at the moment and eat them almost every day.
I guess smoothie bowls are to vegetarians, what a fry up is to a meat eater. Only in a healthier, fruitier kind of way.
Enough said. Let's get to it!
---
What are the basic ingredients that make up a smoothie bowl?
Generally the 3 magic ingredients to any smoothie bowl recipe are:
Frozen banana or mango
Fresh or frozen fruit
Plant milk or juice
Using frozen ingredients allows you to get that thick and creamy texture that is coveted in smoothie bowls.
How can you boost your smoothie bowl recipe?
I'm so glad you asked.
Protein powders: Depending on your nutritional goals, you might like to add a scoop of protein powder to boost the protein content of your bowl.
Superfood powders: I don't go in for superfood powders much, but some people enjoy mixing them into their bowls for an added boost. I do sometimes add Maca powder to my chocolate banana protein shakes because I like the slightly malted flavour it imparts. Spirulina is a popular one to add to green smoothie bowls. Just be sure you don't add too much, unless you want your bowl to taste like fish food!
Vegetables: From spinach to frozen zucchini (courgette). Kale is another popular one that pops up in green smoothie bowls. Others add "super green powders", although personally I like my vegetables fresh.
Oats: Sometimes I add a little handful of oats into my smoothie bowl. Oats add a fibre boost and are a very nutritious food.
Seeds or seed oils: It's no secret that vegan and vegetarian diets are low in Omega 3. Chia, flax and hemp seeds all contain a certain amount of the ALA form of Omega 3. You can add in a little scoop while you blend or use them for toppings. You can also try adding seed oils like flax seed oil or a blended seed oil like Udo's Oil.
Avocado: Adding avocado will give you a creamy texture and provide a source of healthy fats.
What toppings can you use?
Whatever you like. There are no hard and fast rules when it comes to smoothie bowls.
Here are some ideas to get you started:
Nuts
Seeds
Granola
Shredded coconut
Fresh fruit
Berries
Superfood powders
Bee pollen
Edible flowers
How many calories are in smoothie bowls?
The answer is… it completely depends. What's more, I wouldn't worry.
A smoothie bowl is a great way to add more fruit to your diet. You can easily incorporate 2 servings of fruit and even get some veggies in too. Toppings like nuts and seeds contribute healthy fats to your diet. Smoothie bowls are nutrient dense and a great way to start incorporating some healthier foods into your diet.
A smoothie bowl is really a full meal in itself. Enjoy for breakfast or a light lunch.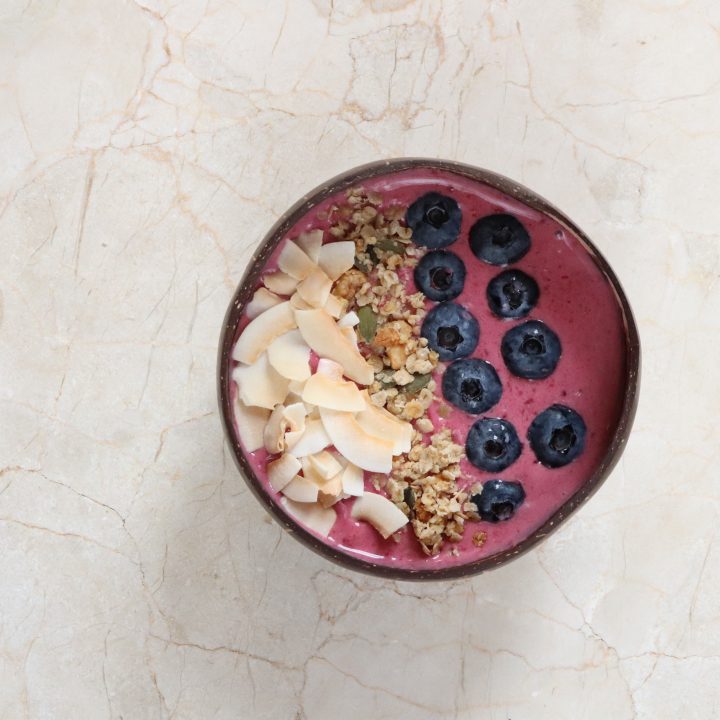 Berry Smoothie Bowl
This berry bowl only uses 3 ingredients and takes 5 minutes to make.
Ingredients
1 cup frozen berries
1 frozen banana (medium)
1/4 cup coconut milk
Toppings
10 blueberries
2 tbsp granola 
1 tbsp coconut flakes 
Instructions
Add the ingredients to your blender and blend on a low speed until it becomes creamy. If the mixture does not come together, add a little more milk.
Use the toppings suggested or add your own.
Notes
For best results use a high speed blender. If your blender is not very powerful, you may need to add more milk.
Nutrition Information:
Yield:

1
Serving Size:

1
Amount Per Serving:
Calories:

388
Total Fat:

18g
Saturated Fat:

13g
Trans Fat:

0g
Unsaturated Fat:

4g
Cholesterol:

0mg
Sodium:

29mg
Carbohydrates:

57g
Fiber:

11g
Sugar:

29g
Protein:

6g
Nutritional information is an estimate and is provided for information only.
---
Did you love this post? Pin it to Pinterest for easy access 🙂